Jewish
[To submit your own event listing, contact us with event details]
Sept. 3 | Las Vegas, NV
Bible "Torah" Lectures
Location
 |
Kingdom of Kings Academy:
2800 West Sahara Avenue #8A Las Vegas, NV
The Torah "Bible" lectures brings you the tradition of classical Jewish learning in a series of clear and engaging weekly classes, probing the ideas and issues presented in each week's Torah "Bible" portion. The Torah "Bible" lectures offer timely lessons for living – from the most timeless of all texts. Beginning with the Genesis Series, the Torah "Bible" lectures will take you through the entire Torah "Bible", introducing you to new planes in spiritual, social and self-awareness – one week at a time.
Admission
| Free
Time
| 5:30-7pm
For more information. 
click here
Feb 16 | Los Angeles
Imagining Scriptures before the Bible: Shapes of Sacred Writing in Early Judaism
Location | 306 Royce Hall: University of California, Los Angeles (UCLA) Los Angeles, CA 90095
The discovery of the Dead Sea Scrolls revealed a world of early Jewish writing larger than the Bible: from multiple versions of biblical texts, to "revealed" books not found in our canon. But despite this diversity, the way we read Second Temple Jewish literature remains constrained by two anachronistic categories: a theological one, "Bible," and a bibliographic one, "book." This talk will consider how we might reimagine the way that Jews understood their own literature before these categories had emerged – not in terms of a "proto-Bible," but as an imagined literary world that took fundamentally different shapes in the minds of early Jewish writers. A selection of case studies from Psalms, Ben Sira, and Jubilees, will challenge anachronistic biblical and bibliographic categories to reveal new aspects of how ancient Jews imagined written revelation: a wildly varied collection stretching back to the dawn of time, yet with new discoveries always around the corner.
Admission | Free
Time | 12pm-1:30pm
For more info & to reserve your seat, click here
Oct 12 | Chapel Hill, NC
The Torah and the Mishnah as Responses to the Destruction of the Temple of Jerusalem
Location | William and Ida Friday Center for Continuing Education: 100 Friday Center Dr, Chapel Hill, NC 27517
SHAYE J.D. COHEN, Littauer Professor of Jewish Studies and chair of the Department of Near Eastern Languages at Harvard University, will discuss the twin destructions of the Jerusalem Temple (587 BCE and 70 CE) and how, in each case, the destruction was followed by the emergence of an authoritative book that would shape Judaism to this day. Neither the Torah nor the Mishnah is an explicit response to the Temple's destruction, but in each case the event prepared the way for the production and canonization of the book. This community lecture is hosted by the Carolina Center for Jewish Studies.
Admission | Free
Time | 7:30pm-9pm
For more info & to reserve your seat, click here
Aug 24 | Harrisburg, PA
Torah Studies: Firstborn Rights
Location |  Chabad Jewish Learning Center: 113 Ringneck Dr., Harrisburg, PA 17112
The Principle of Primogeniture in Jewish Law
Primogeniture. Instances of this concept abound in the Torah, from Esau and Jacob to the ten plagues to the wilderness and beyond. Enter a study of the significance of the firstborn, and what that means practically for us.
Admission | Free
Time | 6:45pm- 8pm
For more info & to register, click here

May 28 | Los Angeles
Jewish Singer Sam Glaser Live at the Social Dashboard
8631 W Pico Blvd
Los Angeles, CA 90035
Th, 8PM-11PM
*Tickets only $15 in advance / $20 at the door
Click here for tickets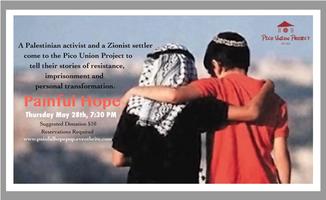 May 28 | Los Angeles
Painful Hope Tour
The Pico Union Project
Come to the Pico Union Project for a deep, contemplative event exploring the lives of two extraordinary men in search of meaning and restoration. Hanan Schlesinger is an Orthodox rabbi and teacher, and a passionate Zionist settler who has been profoundly transformed by his friendship with Ali. His understanding of the reality of the Middle East conflict and of Zionism has been utterly complicated by the parallel universe that Ali has introduced him to. Ali Abu Awwad is a leading Palestinian activist teaching his countrymen non-violent resistance. Ali has toured the world many times over, telling his riveting story of violent activism, imprisonment, bereavement and discovery of the path of non-violent resistance, a story of personal transformation. Join Ali and Hanan as they tell their personal stories and of their efforts to build a better future for their peoples. They come with no ready peace plans in hand, but only with the conviction that human understanding and trust will be the prerequisites for lasting justice, freedom and peace on that tiny sliver of land that they both call home.
1153 Valencia St, LA CA 90015
7:30PM-9:30PM
$10 donation requested
For tickets or more info, click here